Large custom Studio Brick Booth. Mac, TwistedWave, Neman TLM193/ Senheiser 416. CleanFeed, Audient iD14 Mk2, Source Connect, IpdPl. Skype.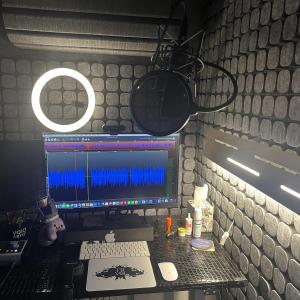 Bath Studio Bricks super booth
Bath Studio Bricks super booth
---
Connections

ip-DTL

Source Connect Now

Skype

Zoom or Teams

Cleanfeed

Google Hangouts
---
As well as being home to Tanya RichVO , the studio is regularly rented out to locally based artistes & visiting actors for TV/Radio/Gaming/Continuity etc.,
In the Studio bricks booth, we have lots of space to move for gaming and drama, An electric desk & XL Mic arm.
Tanya also coaches VO from her Studio see www.Richcraft.biz for info. Either in person or via Zoom.
There is also a purpose built coaching studio, with an Aston Spirit for practice.


Share Bath Studio Bricks super booth


Studio Details
Bath Studio Bricks super booth
mail@tanyarich.co.uk
Services

Production Studio

Voiceover Coach

Voiceover Artist
Get social
Rates
50.00 for 15 minutes
75.00 for 30 minutes
150.00 for 60 minutes
Studio location
United Kingdom